Events
February 6-14, 2016 during mall hours
Spend $75 at any Huntington Mall store now through Valentines Day and receive a $10 voucher to Huntington Mall's Panera Bread! Redeem your receipts at the Huntington Mall customer service center!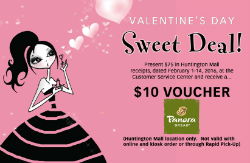 Saturday, Feb.13 from 11am46pm, Macys Court
Huntington Mall Gears Up for Valentine's Day with the Sweetheart Event
Huntington Mall's Macy's Court shoppers will be feeling the love with the second annual Sweetheart Event from 11am – 4pm. This event is geared toward not only sweethearts but also to families with small children.
The lineup for the Sweetheart event includes:
Sweetheart Vendors
Vendors such as Great American Cookies, The Picture People, and Candy Craze will be set up in Macys Court with sweet deals for shoppers from 11am-4pm. Great American Cookie will be set up all weekend from Friday the 12th through Valentine's Day with their Heart Shaped cookie cakes.
Sweetheart Contest
The second annual, "How Well Do You Know Your Sweetheart?" Contest will take place at 1pm. Couples can register to participate in this FREE contest beginning at noon. Grand prize includes a Heart Shaped cookie cake, flowers, candy, hotel room, movie tickets, dinner for two, salon packages, portrait package and jewelry! There will be prizes for the top 5 couples.
Sweetheart Concert
Saturday, Tryon will perform at noon and 2pm on the Macys Court Stage.
TRYON is a pop duo consisting of brothers Stephen and Justin Kirk.
Growing up in Charlotte, North Carolina, both Stephen and Justin Kirk immersed themselves in many musical endeavors. From Gospel choirs and school bands, to backyard parties and music clubs, the Kirks both learned to sing and master multiple instruments. "We'd play and sing for anyone who would listen," recalls Justin. "To be honest, that's something we've never grown out of."
Having opened for national acts (Carrie Underwood - Blown Away Tour, Safety Suit, and two-time Juno nominee Kira Isabella), and after gaining a strong live and social media following, TRYON believes their time has come. "It's been a ton of work and a lot of time - but we've got something to say…and we're ready for the world to hear our music!"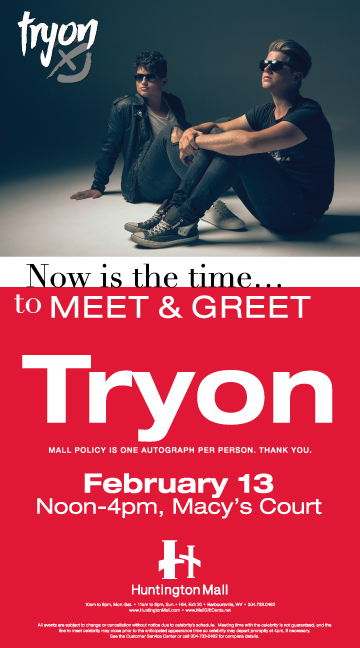 TRYON has teamed with Grammy award-winning songwriter Gary Baker. Baker is responsible for hits from Britney, Backstreet, and NSync, along with the classics I SWEAR and I'M ALREADY THERE.
TRYON'S debut single "Somebody To Love Me" is being played now on SiriusXM Hits-1, Radio Disney, and in major retails stores across the country including Apple, Best Buy, Staples, McDonalds, Verizon, and many others. The official impact date at POP Radio is February 29th and look for TRYON on tour this summer in a city near you!
The Pennies from Heaven Campaign Kick-Off hosted by TEAM for WV Children from 11am-4pm Greg Goode will be on hand as 'Cat in the Hat' to make balloon animals for the kids. A Valentine table will be set next to a giant heart with valentines for the kids to make. At 3pm – the musical trio, Brother Sisters will perform. They are an electric folk trio showcasing tight triple harmonies and original songs and selected covers with two guitars and hand percussion.
The Pennies from Heaven Campaign officially starts on February 15 – March 8 and will raise funds needed to continue important programs aimed at keeping children safe, happy and healthy.
Book Signing
Former Herald-Dispatch editor James E. Casto will sign copies of his new "Lost Huntington: Volume 1" book from 10 a.m. to noon Saturday, Feb. 13, at the Huntington Mall near Macy's.
"Lost Huntington: Volume 1" is a hardcover, full-color book of some of the city's lost landmarks, and could be of interest to anyone who enjoys history and loves Huntington. Books are $29.95 plus tax, and will be available for sale at the signing.